The Tailor Made Wedding Suit
At Tailor Made we know how important your big day is, so from grooms to guests we specialise in creating wedding outfits that are designed and cut to suit you and your big day. With our experience we are able to guide you through the process of finding the perfect wedding suit and ensuring a smooth, stress free and enjoyable experience.
We offer a comprehensive 30 minute consultation to get a full understanding of your ideas and requirements both in terms of aesthetic and fit. Our expert tailoring team will then work with you to discuss your wedding and theme, as well as your personal style in order to select the best fabrics and finishes for the time of year and destination. Ensuring an exceptional outfit that keeps you looking sharp, comfortable and feeling your best on one of the most important days of your life.
Book an Appointment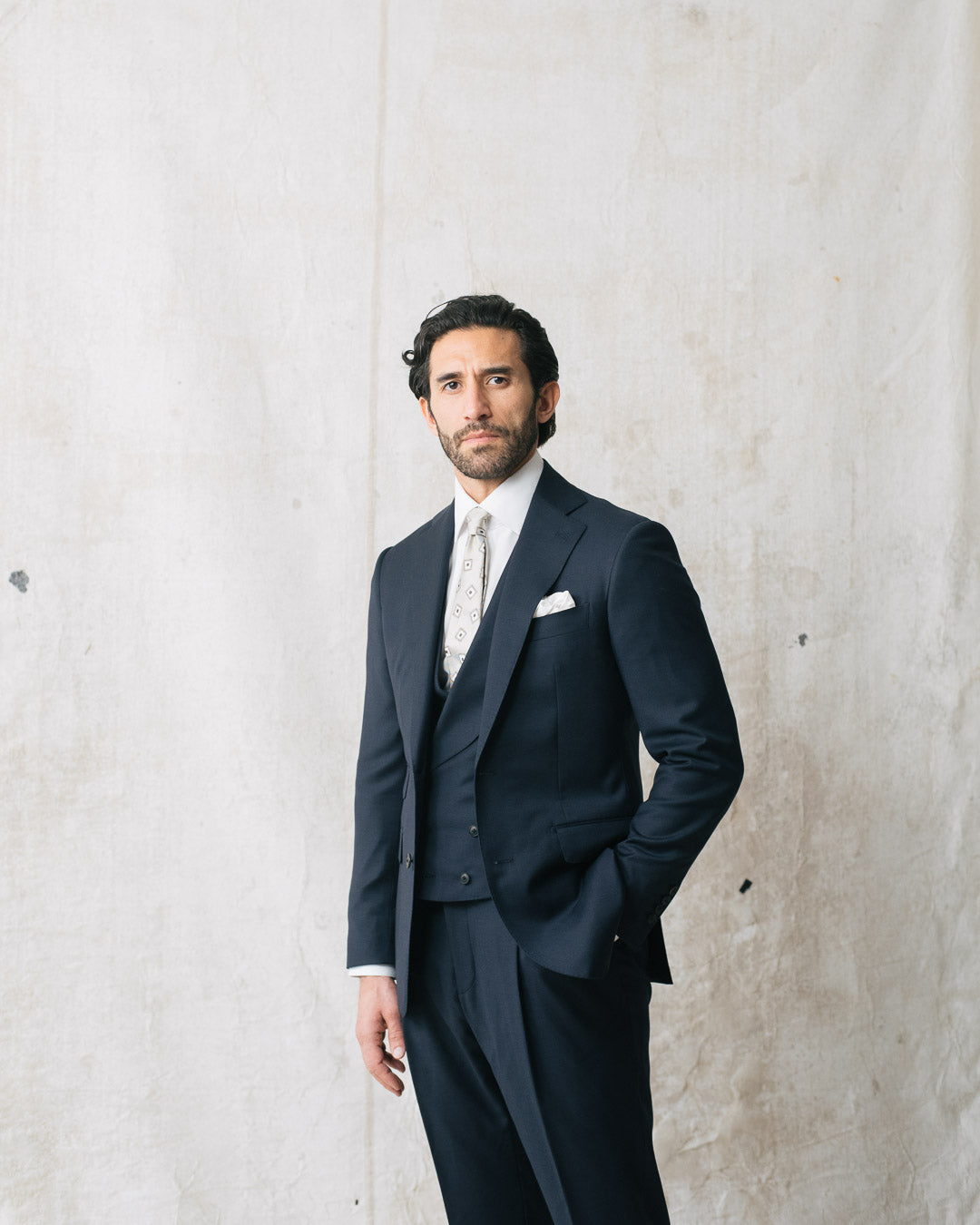 We understand how much effort and planning can go into a wedding and just how important the finer details are. For this reason, all of our suits are completely customisable at no extra cost. This ranges from embroidered monograms of perhaps the wedding date, a colourful lining to tie into the wedding theme or an interesting button to give the suit that extra charm.

To look good, you need to feel good and we will use all of our expertise so that on your wedding day you can live by this motto and dance the night away, knowing all eyes are on you!
Book an Appointment
GET STARTED

Book an appointment at our private London studio in Shoreditch. We look forward to welcoming you and pride ourselves on giving a personal experience. Meet with one of our expert tailoring consultants to discuss your wedding and requirements. We will advise on the most appropriate bespoke options for you and your wedding party.

SELECTION

Our friendly team of tailoring consultants are specialists in creating wedding suits and will share their expertise to ensure you look perfect on your big day. With thousands of cloths and hundreds of style options to choose from, we'll guide you through the process to select the fabrics and finishes that are right for you.

MEASURING

Next, we use our state of the art contactless 3D body scanner to take your measurements. In just a few seconds we'll take thousands of measurements accurate to a nanometre. Next our tailors will use our master garments to see how they fit, feel and ultimately drape on the body to ensure a truly perfect fit.

CREATION & FITTING

Your wedding outfit is now passed onto our tailoring team in our Italian atelier. Who, over the course of a few weeks will craft and hand-finish it as per your exact requirements. When completed, it will make its way back to our showroom ready for you to try on. We will access the fit and if necessary, identify any minor tweaks to perfect things. You and your wedding suit are now all set for the big day!